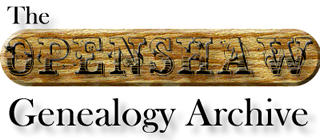 OBITUARY OF JAMES ALFRED OPENSHAW ( 1836 - 1893 ) Extracted from the Bury "Times" of 21 January 1893.
(Thanks to Nigel Openshaw for the transcription!)
"THE OPENSHAW FAMILY. The death of Mr. James Alfred Openshaw (as reported on page 6) removes from our midst a member of one of the oldest of the many old families of which Bury can boast ; the Peels, the Yateses, The Walkers, the Openshaws, the Hardmans, the Kays, the Orams, the Unsworths, the Kenyons, the Hutchinsons, the Grundys, the Wrigleys, the Whiteheads, the Pilkingtons, and the Ashworths, are, among many others, families to detail whose history would be to tell a great deal of the history of the town itself. Few families, however, can boast a longer or more intimate connection with the spinning or manufacturing of cotton in the district than the Openshaw family, or of more numerous members of the family settled in one district.
Up to recently there have been six large spinning and manufacturing concerns run by branches of the family for a considerable number of years, that of the late Mr. James Alfred Openshaw having been in existence for 30 years, whilst it is said that for many generations before the adoption of the power-loom and the present system of spinning, when the spinning and manufacturing processes were in their infancy, the Openshaw family were largely interested in the spinning and weaving of cotton by the primitive distaff or spinning wheel and the hand-loom.
Indeed there are records of the Opynscha family as far back as 1360. In what are called the "Chetham Miscellanies", from documents unearthed and printed by the Chetham Society, it is reported that John Radclyff, lord of Radclyff, gave licence unto one Old Ryc. Opynscha that was heir to the Schae, to take an encroachment on Cockey Moor and there to set up his hives. Old Ryc., as he was familiarly called, occupied the encroachment for 20 years, and on his death his son John occupied the place for 15 years, dying without issue. There was a second son of Old Ryc, whose name is unknown, and who, it is supposed, pre-deceased his brother and his nephew. His son John was, at the time of his cousin's death, away at the wars. On his return he found that his uncle James (a third son of Old Ryc.) had taken possession of the encroachment, and John had perforce to buy him out.
John was, in 1509, living at Starling, a small hamlet in the parish of Radclyff, of which it is said :- "At ye cornell of the hegge harde beyde the house of John Opynshaw metys iii pichez yt is to wit, Medulton pch, Bury pch, and Radclyff pch, so yt all ma may sett a iii fortyd stole in eury pch a fote" - which, in modern English, would be rendered :- "At the corner of the hedge, hard by the house of John Openshaw, meets three parishes; to wit Middleton parish, Bury parish, and Radcliffe parish, so that a man may set a three-footed stool, in every parish a foot."
All the Openshaws of Bury descend from John Openshaw, of Pimhole, who was born in 1704, and who founded the firm of woollen manufacturers known as John Openshaw and Son and Co. , at Pimhole. The mill, which contained 6,720 spindles and 200 looms, came to a standstill a short time ago. He married at Bury, on 28 October 1725, Elizabeth, eldest daughter of Oliver Ormerod, of this town. As issue of the marriage he had four sons and two daughters, viz. John, of Starkies; Thomas, of Stanley Street; George, of Pimhole; and James, of Redvales. John died without male issue, but left three daughters.
Thomas, the second son, was born in 1730 and was twice married, on the first occasion to Miss Walker, and on the second to Miss Powell. By the first union he had one son, known as John Openshaw of the Bell, Bury (presumably the part of the town where Bell Lane is now situate). John of the Bell was married to his cousin Alice Openshaw, daughter of George Openshaw, of Pimhole; and he left an only son, Thomas, who was father of Anna Openshaw. The last-named eventually became the wife of the late John Lomax, J.P., of Springfield, Bury, and of Bodfach, Llanfyllin, high sheriff of Montgomeryshire in 1862. That branch of the family is now extinct.
By the second marriage, Thomas Openshaw of Stanley-street had no fewer that 20 children, one of whom, Charles Openshaw, married Alice, daughter of James Elton, of Bury, and founded the firm of Charles Openshaw and Sons, cotton spinners and manufacturers, Earl-street, Bury. It was with his father-in-law that Charles learnt spinning, and some years afterwards he is recorded as having several hundred hand-loom weavers, and being chiefly instrumental in bringing the town into some repute for the manufacture of velveteen, cords, &c. His kindness to his work-people found expression in a great variety of ways, one being his habit of giving a quart of ale and a good dinner to each when they brought home their work. He was one of the last to substitute the power-loom for the hand-loom. There are at present something like 35,000 spindles and 800 looms in the mills.
The eldest son, Richard, was survived by two of his own sons - John, who married a Miss Bennett of Manchester, and died without issue, and Thomas (of Hulme), of whose marriage with Elizabeth, daughter of Jonathan Kenyon, of Bury, there was an only son Jonathan Openshaw, of Bank House, Manchester Road. Jonathan took as a wife Eliza, daughter of Joseph Holt, of Heaton Grove, Bury, and he was, for several years, one of the Improvement Commissioners of Bury. Surviving him was one son, the late Thomas Lomax Openshaw, J.P., D.L., of Heaton Grove, Manchester Road, whose wife was Adelaide, daughter and co-heiress of William Turner of Flaxmoss, Helmshore. Jonathan also left two daughters, Sarah Ann, who became the wife of the late William Openshaw, of Southport, and Eliza, who was the first wife of Mr. Thomas Aitken, J.P., of Holcombe Hall.
Thomas Lomax Openshaw took a prominent part in the political life of the town, and particularly in the General Election of 1865, when he not only acted as Chairman of Mr. R. N. Phillips's committee, but seconded the nomination of Mr. Philips in an able speech in which he advocated the adoption of the ballot and the abolition of Church rates, saying that although a Churchman himself, he felt ashamed when he found the Church taxing others who were opposed to it. He concluded with an appeal to the electors to "rid themselves from the dominion of the Tories of the borough." There is at present a picture of him at the Philips' Liberal Unionist Club. He left three sons and four daughters, all of whom are living, except Adelaide, who married Mr. Freeland, Her Majesty's Inspector of Schools. The eldest is now Mrs. Haslam, of Burnley, the third is Mrs. Bromilow, widow residing at Ambleside; Mary Elizabeth was married to Frank Ernest Pilling Openshaw, of The Starkies; Oliver Openshaw, who resides near Barnstaple; and Joseph Thomas Openshaw, of Irwell Mount, Ramsbottom, who married May Sainte Clare, daughter of the Rev. Thomas Openshaw, B. A., of Hey Mount, Holcombe, and Rector of Kentisbury, North Devon. Joseph Thomas now practices in Bury as a solicitor; he served some time with the Volunteers and when he retired he had attained the rank of Captain.
We now come to the third branch of the Family, to the descendants of George Openshaw, of Pimhole, who was born in 1734. Where he resided prior to 1775 it would be difficult to say, but his place of abode in that year is placed beyond doubt by an ornamented stone in an unpretentious brick building near Pimhole Bridge, Pimhole-fold, which bears the inscription: "G: E: Openshaw, anno 1775," the initials being those of George Openshaw and his wife. George Openshaw's first wife (a Miss Heywood, of Bury) bore him two sons and six daughters.
The eldest son, John, born in 1761, married Mary, daughter of John Topping, of Topping-fold, the issue of the union being five sons and five daughters. John, the eldest, took unto himself a Miss Lord, but died without issue.
George, the second son, born 1785, took up his residence at Stonyhill, Blackpool. He married Margaret Ramsbottom, of Birtle, and left a son and a daughter, the former being John Openshaw, of Hughenden House, South Shore, who is married but has no family. The daughter, Mary Ann, was married to a Goolden.
The third son of John Openshaw (of 1761) was Thomas Openshaw, of whose work in the Pimhole district of Bury the beautiful church of St. Thomas stands a fitting monument, and it is not too much to say that so long as Bury has a history will Thomas Openshaw's works be remembered as among the brightest features of the past. He became travelling partner in the firm of John Openshaw, Son & Co., and much of his time was taken up with business affairs. It was his efforts to educate the working classes in the town that first brought Mr. Openshaw into prominence among his fellows. After a time he confined his attention to the Pimhole district, and assuming the role of schoolmaster he taught so successfully that it was found necessary to erect St. Thomas's Schools, which were built mainly at Mr. Openshaw's expense. Twice each Sunday he gave an address to the scholars; he established a Dorcas Society and a night school, and did his utmost, during a period of about fifty years, to improve the status of the working class residents in Pimhole. This crowning achievement was the erection of St. Thomas's Church, at a cost of upward of £8,000. It is worthy of record in this brief review that Thomas Openshaw, whose Will was proved at under £30,000, in 1869, left £100 to the Bury National School, £25 each to the six district Sunday Schools, £500 to the Bury Dispensary, £200 for the poor of Bury, £1,000 to the district of St. Thomas's for the poor, and £600 to each of the districts of All Saints', St. Paul's, Holy Trinity, St. Johns', and Redvales, to be called "Openshaw's Charity," - or a total of £4,500.
The fourth son of George Openshaw was James, of Beech-hill, who was twice married. By his first wife, Mary Bolland, of Heap Brow, Bury, he had John Ormerod, of Rhiwlas, Bury, who married Alice, daughter of Joshua Knowles. After her husband's death, Mrs. Openshaw married Dr. Davies, who has since died, and she has taken up her residence at Rhiwlas. James, who was the only son born to them, died before attaining his majority. The late Rev. Thomas Openshaw, of Hey Mount, Holcombe, and Rector of Kentisbury, North Devon, was the second son of James Openshaw of Beech-hill. He married Jane, daughter of James Pilling, of Bridge Fold, Rochdale, and had seventeen children as issue. The eldest, Frank Ernest Pilling Openshaw, now resides at Starkies. He has served a number of years with the Volunteers, retiring with the rank of Major.
The second son, Arthur Percival, was thrown from his horse in 1877, and died from the effects of his injuries. He had been on a visit to his father, who was then lying dangerously ill, and was returning home when the accident happened. The father and son (who had not attained his majority) were interred at the same time in the Church at Kentisbury. Another son, the Rev. John Ormerod Openshaw, B.A., of Clare College, Cambridge, was recently ordained by the Bishop of Exeter, and licensed to the Curacy of Dolton, near Barnstaple. Another, James de Radcliffe Openshaw, who resides at Southport, married Mary Alice, daughter of Major J. H. Serman, late of the Bengal Lancers. May Sainte Clare was united to Mr. J. T. Openshaw, Irwell House, Ramsbottom, and Anne became the wife of her second cousin, Oliver Ormerod Openshaw, of Park Crescent, Blackpool [? or Southport ?]. Sarah, a daughter of James Openshaw (Beech-hill) was married to John Bradbury, M.D., of Cambridge. By the [? second ?] marriage James Openshaw (Beech-hill) had James Alfred Openshaw, of Parkside, Kendal, who died on Monday last, and Arthur Albert, of Beech-hill, Bury, who was twice married but left no issue. James Alfred married Miss Durant, who is now left with two sons and two daughters.It was these two brothers who in 1861 founded the firm of James Alfred Openshaw and Bro., and which has continued in existence up to date. The youngest daughter by this second marriage was Mary Ann, who became the wife of Mr. W. O. Walker, J.P., of Summerville, Bury.
The fifth and youngest son of John Openshaw (1761) took up his abode in Tenterden-street, Bury. He married Dorothy, daughter of Mr. Greenhow, of Kendal, and had five children, the eldest being John Greenhow Openshaw, who died young. The second son was William, of Park Crescent, Southport [? or Blackpool ?], who married Sarah Ann, eldest daughter of Jonathan Openshaw, of Bank House, Bury, by whom he had three sons and a daughter. The only son who survived him was Oliver Ormerod Openshaw, who married his second cousin Anne, and lives at Park Crescent. George was the third son, and he is now living at Belgrave Place, Manchester-road, Bury. He married Mary Ann Lomax, daughter of John Lomax. It was the brothers, William and George, who founded the firm William and George Openshaw, Pimhole Cotton Mills, in which there are 15,000 spindles and 530 looms. The youngest son was Thomas Ormerod Openshaw, who will long be remembered in the town on account of his munificent gifts towards the Rochdale-road Recreation Grounds. The fourth branch of the family is that of James Openshaw, of Redvales, who was born in 1737. He had a son, James, and a daughter, Esther, the latter marrying Thomas Ramsbottom, of centre Vale, Todmorden. James married a Miss Harrison, and there were several children, two of whom, William and Jonathan, founded the firm of William and Jonathan Openshaw, High-street, Manchester. William was the elder, and he died leaving among other children Frederick Openshaw, J.P., of Hothersall Hall, Ribchester, who married Miss Hardman, of Chamber Hall, by whom he had several children. Jonathan, also of Hothersall Hall, and Waterloo House, Bury, died a bachelor. Another brother of Frederick was James [? or John ?] Hamilton Openshaw, formerly of Stand.
Among the other branches of the Openshaw family may be mentioned Mr. James Henry Openshaw, of the Albion and Albert Mills, Elton ; Dr. Thomas Williams Openshaw , of London ; Mr. Joshua Openshaw, J.P., Heywood-street ; Mr. John George Openshaw, Solicitor, Bury ; and Mr. C. H. [? Charles Herbert ?] Openshaw, Architect and Surveyor."
Last Updated 22 June 1999
Ross Andrews